Compare cheap Jeep car insurance
✔ Compare cheap Jeep car insurance quotes
✔ Over 110 insurance providers
✔ Get a quote in minutes
✔ Save up to £334*
Start a quote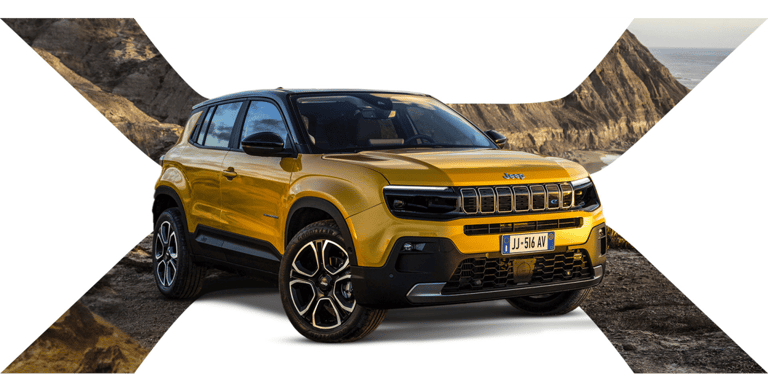 Who are Jeep?
Jeep, a legendary American automotive manufacturer, has a rich history spanning over 75 years. Established in 1941, Jeep has become synonymous with off-road capability and adventure. The brand is renowned for its extensive line-up of 4×4 vehicles that have earned a loyal following worldwide.
One of Jeep's most popular models is the Jeep Wrangler, an iconic symbol of ruggedness and freedom. With its distinctive design, removable doors and roof, and unmatched off-road capabilities, the Wrangler has become an enduring symbol of exploration and outdoor lifestyle.
Another notable model in Jeep's line-up is the Jeep Grand Cherokee, a luxurious SUV that blends comfort, refinement, and impressive performance. The Grand Cherokee offers a spacious interior, advanced technology features, and a range of powerful engine options, making it a versatile choice for both on-road and off-road adventures.
The Jeep Commander, known for its commanding presence and spaciousness, provides seating for up to seven passengers. This versatile SUV offers a blend of ruggedness and refinement, making it suitable for family trips or off-road explorations.
Jeep vehicles are designed to withstand the toughest terrains and weather conditions, earning a reputation for their exceptional durability and reliability. Whether navigating rocky trails, traversing muddy paths, or conquering snowy landscapes, Jeep's 4×4 vehicles excel in delivering exceptional performance and ensuring driver confidence.
In addition to their off-road prowess, Jeep models also offer a range of modern features and technologies to enhance comfort, convenience, and safety. From advanced infotainment systems and driver assistance features to luxurious interior appointments, Jeep vehicles provide a well-rounded driving experience.
Over the years, Jeep has established itself as one of the most recognisable and respected automotive brands globally. Its distinctive seven-slot grille, rugged aesthetics, and unwavering commitment to adventure have contributed to its iconic status. Jeep enthusiasts form a passionate community, united by their love for exploration, outdoor activities, and the spirit of adventure.
With a heritage rooted in off-road heritage and a commitment to innovation, Jeep continues to push boundaries and create vehicles that inspire a sense of freedom and exploration. Whether it's navigating challenging trails, embarking on epic road trips, or simply enjoying the thrill of open-air driving, Jeep vehicles offer an unmatched experience for those seeking adventure and versatility.
Frequently asked questions
How much does a Jeep cost to insure?
The cost of insuring a Jeep can vary based on several factors, including the specific model you drive and the car insurance group it falls into.
Jeep models are assigned different car insurance groups ranging from 8 to 50, with lower groups generally indicating lower insurance costs.
In addition to the car insurance group, insurance providers take into account other factors when calculating your premium. One important factor is your address, as insurance rates can vary depending on the area you live in.
Your age is another factor, with younger drivers typically facing higher insurance premiums. Furthermore, your profession can impact your insurance premium, especially if your job involves extensive driving.
To get an accurate estimate of the cost to insure your Jeep, it's recommended to get car insurance quotes from different insurance providers. By comparing quotes, you can find the best coverage options at competitive rates that suit your budget and needs.
Can I cut the cost of my Jeep insurance
Yes, there are several ways you can potentially reduce the cost of your Jeep insurance premium. Here are some tips to consider:
It's important to note that while these measures can potentially reduce your insurance costs, the specific impact on your premium will depend on various factors, including your individual circumstances and the insurance provider's policies.
It's always recommended to consult with insurance professionals and compare quotes to find the best coverage options for your Jeep at the most affordable rates.
Where can I find Jeep insurance?
At Comparoo, we provide a convenient platform to help you find Jeep car insurance quotes from a wide range of insurance providers in the UK. Our goal is to simplify the process of comparing and finding the right insurance coverage for your Jeep.
To get started, simply provide us with some basic information about your Jeep and your personal details, and we'll do the work for you. Our system will gather quotes from multiple insurance providers, allowing you to easily compare the coverage options, prices, and policy features.
By using our service, you can save time and effort by avoiding the need to individually contact multiple insurance companies. With a comprehensive selection of insurance products available, we aim to help you find the most suitable and competitive Jeep insurance quotes tailored to your needs.
Start comparing Jeep car insurance quotes with us today and find the coverage that offers the best value and protection for your Jeep.