Compare cheap Alfa Romeo car insurance
✔ Compare cheap Alfa Romeo car insurance quotes
✔ Over 110 insurance providers
✔ Get a quote in minutes
✔ Save up to £334*
Start a quote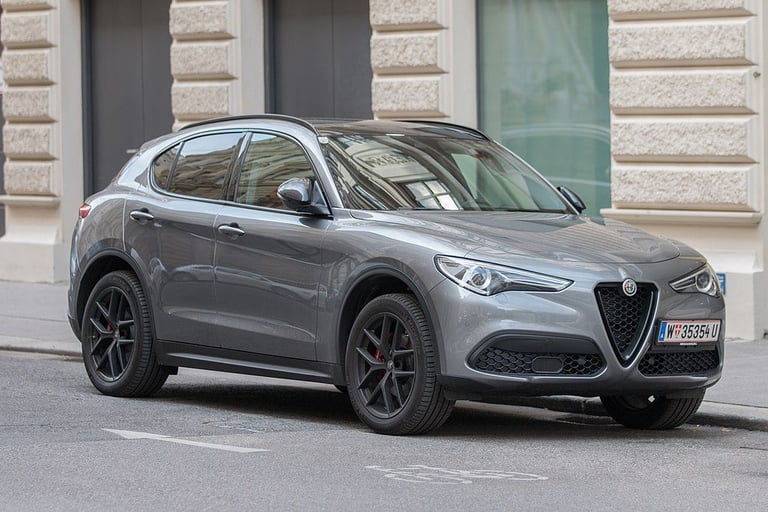 Who are Alfa Romeo?
Alfa Romeo is a renowned car manufacturer with a storied history that dates back to 1911. The brand gained recognition for its high-performance racing cars and elegant tourers, establishing a reputation for excellence in the automotive industry.
Today, Alfa Romeo is part of the Fiat Chrysler Automobiles (FCA) Group, upholding its tradition of exceptional build quality and cutting-edge engineering. The company offers a diverse range of models that cater to different preferences and needs.
For those seeking a combination of style and sportiness, the Alfa Romeo Mito offers a compact and charismatic option. The Giulietta, known for its distinctive design, provides a blend of sophistication and performance.
At the top end of the spectrum, the Alfa Romeo 4C captivates motoring enthusiasts with its breathtaking looks and impressive top speed of 160mph.
Alfa Romeo continues to captivate drivers with its unique blend of Italian flair, performance, and craftsmanship. Whether you're drawn to the iconic heritage of the brand or the exhilaration of driving a modern Alfa Romeo, there is a model to suit every taste and preference.
Frequently asked questions
How much does an Alfa Romeo cost to insure?
The cost of insuring an Alfa Romeo will depend on various factors, including the specific model and version you choose, as well as your personal circumstances.
Insurance providers consider factors such as the car's value, power, repair costs, and security features when determining the insurance group it falls into.
Alfa Romeo offers a range of models, each with different versions and specifications, resulting in a varied range of insurance groups. For instance, the Mito can be found in insurance groups 8 to 28, while the Giulietta ranges from groups 15 to 33.
In addition to the car itself, insurance companies also take into account individual factors such as your age, driving experience, location, and occupation when calculating insurance premiums. Younger and less experienced drivers may generally face higher insurance costs, while factors like living in an area with higher crime rates could also impact the premium.
To find the most accurate and competitive insurance quotes for your Alfa Romeo, it's recommended to compare car insurance quotes from multiple insurance providers. This allows you to consider different coverage options and find the best policy that suits your needs and budget.
Can I cut the cost of my Alfa Romeo car insurance?
To cut the cost of your Alfa Romeo car insurance, there are several strategies you can consider. First and foremost, it's important to shop around and compare quotes from different insurance providers. This allows you to find the most competitive rates for your specific Alfa Romeo model.
Additionally, you can take the following steps to potentially lower your premium:
Secure parking: Keeping your Alfa Romeo parked in a secure place, such as a locked garage or a private driveway, can reduce the risk of theft or damage, which may lead to lower insurance premiums.

Security features: Installing industry-approved security devices such as alarms, immobilisers, or tracking systems can improve the security of your Alfa Romeo and potentially qualify you for discounts on your insurance premium.

Avoid modifications: Modifications to your Alfa Romeo, such as engine enhancements or body kit additions, can increase the insurance premium. It's advisable to avoid or limit modifications to help keep your insurance costs down.

Annual mileage: Limiting your annual mileage can lower your insurance premium, as less time on the road generally means a lower risk of accidents or incidents.
If you're a younger driver, you may face higher insurance costs due to the perceived higher risk associated with less driving experience. In such cases, considering telematics insurance or adding an experienced driver to your policy as a named driver may help reduce the premium.
Remember to also explore our top tips for cheap car insurance, which provide additional strategies for lowering your premium and finding the best coverage for your Alfa Romeo.
Where can I find Alfa Romeo car insurance?
You can find Alfa Romeo car insurance by using our comparison service. We make it easy for you to save time and money by providing quotes from a panel of trusted car insurance providers.
To get started, simply provide us with your details and information about your Alfa Romeo. We will then generate a list of quotes that you can compare side by side. This allows you to choose the policy that offers the right level of coverage and suits your needs and budget.
Our goal is to make the process of finding Alfa Romeo car insurance quick and hassle-free. By using our service, you can save yourself the time and effort of contacting multiple insurance providers individually. We bring the options to you, so you can make an informed decision and get the best insurance deal for your Alfa Romeo.